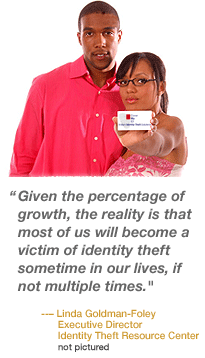 Risking Your Livelihood To Identity Theft?


There are a lot of things you can do to protect yourself and defend against ID theft. Most are a hassle when you get right down to it. One simple step is to purchase ID theft insurance for your self, family or friends. It's like car insurance –- you hope you never have to use it, but you're glad you have it if some fool crashes into you (or there's a data breach or other stolen ID or stolen credit card incident, etc.).



If you spend time searching around, you'll see there are VERY FEW companies that offer what we offer -- identity theft coverage WITH NO STRINGS ATTACHED.



• Others require that you have homeowners or other insurance with their company
• Or they add expensive credit monitoring, credit report or credit restoration services, which cover only half of the identity theft fraud story
• You can now get a free credit report from each of the three major credit report agencies once a year at www.annualcreditreport.com. (Some experts recommend that you stagger your order -- one report every 4 months –- for a year's worth of credit monitoring without paying a dime).



Our star product -- the Gold Identity Theft Defense Plan -- provides identity theft prevention and protection, education, credit report monitoring, ID theft insurance benefits up to $25,000 with zero deductible, in a program backed by one of the world's largest companies (AIG). All this -- for only $29.95 per person, per year. Sweet deal if you ask us!



Cover My ID!





• Experts since 2001 in creating Identity Theft Defense Programs
• We offer Identity Theft programs without additional purchase requirements
• Our programs are backed by some the world's best companies (great for when companies offer ID theft defense programs as part of their employee benefits)
• Our programs come with fraud alerts, credit report monitoring, credit freeze alert services
• No sensitive personal information is required or stored
• Your order instantly processed via fast, secure online sign-up
• You're enrolled and covered in minutes