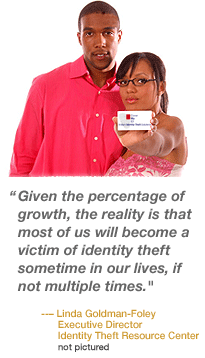 Did you receive a 'data breach or identity compromise' notification letter lately?


In 2006, 1 in 10 Americans received a letter from a U.S. company saying their personal data was somehow lost.



In 2007, over 23 million adults received a data breach notification letter from firms reporting the loss of personal data, affecting millions of hard-working Americans whose identity may now be compromised.



What will 2008 bring us?



Since most of those companies sending out notification letters offer at most a year's worth or credit monitoring services, what happens when the service expires? Are you ready to spend $150 a year from now on to monitor a problem someone else created for you?



We think identity theft insurance is a great product for year-round peace of mind. It's like car insurance –- you hope you never have to use it, but are glad you have it when you need it most.

Ways to Protect Your ID
Order a free credit report from each of the three major credit reporting agencies at least once a year (at www.annualcreditreport.com). Some experts recommend that you stagger your order –- get one report every 4 months -– to achieve a year's worth of credit monitoring without paying a dime.
Do not give out personal information on the phone, through the mail or over the Internet unless you have initiated the contact or know whom you're dealing with. Identity thieves may pose as representatives of banks, Internet service providers and even government agencies to get you to reveal your SSN, mother's maiden name, financial account numbers and other identifying information. Legitimate organizations that you do business with already have the information they need and will not ask you for it
Be cautious about where you leave personal information in your home, especially if you have roommates, employ outside help or are having service work done in your home
Shred all unwanted credit offers that come in the mail addressed to you (to avoid becoming another credit card victim)
Use a crossed-cut paper shredder for ID theft protection
Use only your first initial, last name on your personal checks
Drop bill payments and other sensitive mail in USPS boxes, not your home mailbox
Purchase a personal ID theft protection plan to provide the needed funds and assistance to clear up legal issues and expenses
Data Breach News Update




Cover My ID! Comes to the Aid of U.S. Veterans and Active-Duty Personnel Concerned About Identity Theft Aliso Viejo, CA (PRWEB) May 31, 2006



Cover My ID!, one of the nation's premier providers of identity theft solutions for consumers, today announced that it is leading the effort to help U.S. veterans, active-duty military, Guard and Reserve members and their families affected by the recent VA data loss incident.

Cover My ID! is offering its products and services at a 50% discount for those concerned about becoming a victim of identity theft. A special online order page has been created for American veterans, active-duty military, Guard and Reserve members and their families at www.CoverMyID.com/USVeterans. The 50% discount offer is valid until December 31, 2008.

"It would be impossible for us to sit by and do nothing while millions of men and women who have or are serving this country face a heightened risk of having their identities stolen," said Craig L. Peterson, CEO of Cover My ID! "We would like to give back to this group of people that have given us so much."

"What separates our programs from others is that there are no additional purchase requirements for enrollment, no sensitive personal information is required or stored, the price is amazingly low and coverage is secured in minutes using a safe, online sign-up process," said Peterson. "We provide instant identity theft prevention tools, education, ID theft insurance and identity restoration services to help potential ID fraud victims recover their loss of time, money and peace of mind in fighting identity theft."

For $1.25 a month individuals can protect themselves and their families from financial ruin should they become a victim of identity theft. And should they need more robust identity theft recovery services, for $5 more per month they'll have an Identity Theft Restoration Professional assigned to their case along with comprehensive notification to creditors, credit review and monitoring services, accuracy review of Social Security Earnings Statement and much more.

Credit Reports and Monitoring

You can now get a free credit report from each of the three major credit report agencies once a year (at www.annualcreditreport.com). Some experts recommend that you stagger your order -- one report every 4 months -– for a year's worth of credit monitoring without paying a dime.

Latest ID Theft Scams



Identity thieves get the information they need to steal your identity from a variety of sources. It is much easier than you might think. All thieves' need is your social security number, credit card number, checking account number, birth certificate, mothers' maiden name or a password. The rest can easily be researched or made up.
Identity thieves have been posing as court officials, calling potential victims to say they failed to report for jury duty and there's a warrant out for your arrest. While you're in shock with this news, they then demand your SSN number, sometimes even a credit card number. While court personnel may occasionally call people at home they will never ask for personal identifying information.
New techniques such as 'phishing' have sprung up to lure you into providing sensitive personal information to what appear to be legitimate sites but are frauds
Trusted employees have access to client information, know how to get past security and how to cover their tracks
Temporary staff get access to sensitive information as they do data entry, file medical claims or during tax season
Spotting Phishing Emails


Here's several key ways to identify a 'phishing' email that you should be aware of (and don't forget to tell a friend):

The email will be directed to a 'customer' rather than you as an individual by your name (example: Dear PayPal user, eBay Account Holder, etc.)
Ninety-five percent of phishing emails usually have bad grammar or misspellings - watch for this
By clicking on the 'Properties' of the link, you'll see that the url address is different from the text in the email (although some legitimate email companies send valid emails for their corporate clients and may use non-threatening tracking codes which is generally acceptable)
If you visit the website it will not be secure (it won't display the 'lock' icon in lower corner)
The sad truth is that these "Phishers" are getting more sophisticated. The good news is that, by looking out for the above red flags and errors, you'll be able to quickly spot a large majority of phishing emails and delete them (DO NOT RESPOND in any way, even with a nasty reply - it only validates your email address as live, generating more spam etc).

New Anti-Keylogging Software





GuardedID, a new anti-keylogging software from our affiliate partner StrikeForce, Inc., is the world's most comprehensive keystroke encryption technology. GuardedID is designed to protect your identity and financial information whenever you bank, shop, email or browse online.

GuardedID is a super easy software download that installs in minutes. One year's worth of GuardedID's keylogging protection sells for $29.99 for an individual license. For a free 30-day trial or to order now please click here.

To learn more about keylogging and how dangerous it can be for internet users, check out this white paper.